<< Back to Resources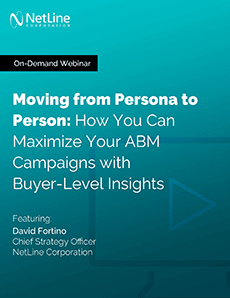 Moving from Persona to Person:
How You Can Maximize Your ABM Campaigns with Buyer-Level Insights
Account-based Marketing has long left out a crucial component: accounts do not make purchases. People do. We need to move beyond company-level insights to buyer-level insights to drive engagement and pipeline. But, how?
We don't talk about the
"who"
within targeted accounts enough. Yet, we're constantly trying to understand prospect behavior and coming up short. In this On-Demand Webinar, NetLine's Chief Strategy Officer David Fortino dives into the significance of quality data in 2021 and how that directly translates to driving engagement and pipeline.
In this session, we explore:
How the removal of cookies and IP address blocking dramatically impacts the quality and value of third-party data
Buyer engagement trends emphasizing the importance of building trust with prospects to drive engagement
How buyer-level intent insights leads to sales acceleration and marketing-generated revenue
Leveraging first-party data to understand in-market accounts for Account Discovery and getting deeper insights for Account Monitoring
If you're looking to take your content driven ABM efforts to the next level, this webinar is for you.