<< Back to Resources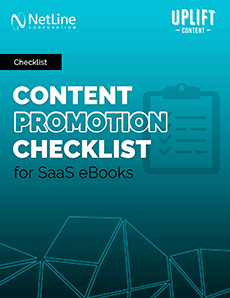 Content Promotion Checklist for B2B SaaS eBooks
Are you doing enough to promote your lead magnet? Discover 20 ways to promote your SaaS eBook to its full potential.
Promoting a B2B SaaS eBook takes more than a mediocre landing page. Use this checklist to generate leads and catch the eye of your best prospects.
What you'll find inside:
20 ways to promote your SaaS eBook
New, innovative ideas you may not have considered
Encouragement to get creative and go beyond a basic landing page and tweet
Learn how you take your promotions to the next level to drive leads and sales! Brought to you in partnership with Uplift Content.