<< Back to Resources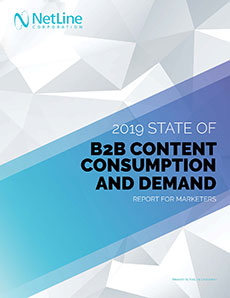 2019 State of B2B Content Consumption and Demand Report for Marketers
An exclusive dive into actionable first-party data from thousands of real campaigns based upon 12 months of consumption activity across the NetLine network.
Analyzing over 4 million downloads and hundreds of raw data points, B2B marketers get a deep dive into a holistic view for strategic content marketing and campaign optimization. This report harnesses in-depth research with actionable takeaways, equipping marketers with the tools to drive meaningful engagements with downstream impacts on pipeline.
This year, we've layered analytical insights with buyer-engagement behavior, resulting in powerful approaches to target influencers and decision makers. Focusing on top pain-points for B2B marketers, NetLine's analyses cover cross-sections of the total audience formatted into four priority areas for building a successful strategy:
By the People
By the Company
By the Industry
How to humanize with data
Robert Alvin, CEO and Founder of NetLine Corporation touts the value of operating the largest B2B content syndication network, "By processing millions of content downloads from in-market professionals, we're able to capture first-party buyer engagement behavior data that enables us to help B2B Marketers navigate the complicated content consumption ecosystem necessary to generate successful lead generation campaigns."
The 2019 Content Consumption and Demand Report for Marketers unpacks first-party data from real professionals consuming real content across the leading and largest B2B buyer engagement network. Optimize your 2019 marketing strategy with revenue-driving data — download today.