<< Back to Resources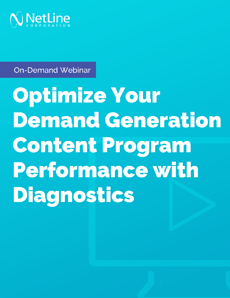 How to Optimize Your Demand Generation Content Program Performance with Diagnostics
Register now for this on-demand webinar featuring former VP of Demand Services at SiriusDecisions, Jason Hekl, as he teaches demand gen funnel diagnostics, paired with a real-world case study.
Being a better marketer means taking a critical eye to the programs and tactics you run within the context of the audience you are attempting to attract, engage, qualify and convert, to diagnose performance and identify and prioritize improvements for that prospect-specific marketing effort.
In this two-part on-demand webinar, Jason Hekl former VP of Demand Services at Sirius Decisions, co-host of the popular Marketing Milestones podcast, and co-founder of Marketing Converts and Heather Vaughan, Manager of Demand Generation at InfoBlox, teach you how to run funnel diagnostics on your demand generation program, follow-up by an inside look at how to create a strategic and tactical content program, including:
Funnel Diagnostics
• Getting started with content-centric programs
• Advancing with audience-specific programs
• How to integrate programs to flex with your funnel
Content Program Case Study
• How to identify your content program goals
• Structuring your lead follow-up strategy for success
• Executing your program analysis and optimization
Register now for this on-demand webinar, sponsored by NetLine Corporation.