<< Back to Resources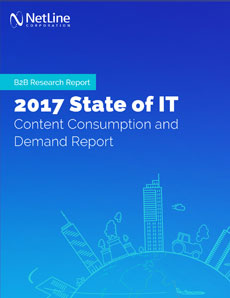 2017 State of Information Technology: Content Consumption and Demand Report
Important insights for IT marketers to run more robust demand generation strategies this year.
B2B marketers have a growing opportunity to reach IT decision makers by acknowledging the changes in content consumption trends and past mismanagement of prospects.
In 2016, content consumption volume from IT professionals grew by 38% and 54% of the active audience consumed more than one piece of content. Further, 11% of the active IT audience consumed more than 10 resources, averaging only 11 days between content requests. The new IT industry report from NetLine provides deep analysis into the research patterns of IT professionals, IT content trends, and the most in-demand audiences of IT companies. The report is aimed at empowering IT marketers with powerful insights to run more robust lead generation campaigns this year, covering:
Data Infrastructure and Data Tools
IT Infrastructure
Enterprise Applications
Security
Storage
The 2017 State of Information Technology Content Consumption and Demand Report is an important read for B2B marketers of IT solutions and services.