<< Back to Resources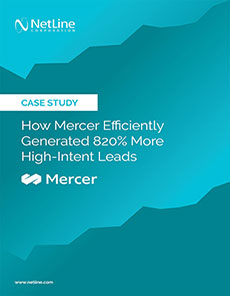 How Mercer Efficiently Generated 820% More High-Intent Leads
Discover how Mercer US Health leveraged content syndication to generate 820% more high-intent leads.
It's easy to get lost in the marketing machine. Mercer US Health found themselves stuck in the same cycle and needed a way to drive meaningful results within the manufacturing industry. To do this, they'd need to produce industry-specific content and find a partner to help amplify and hone their efforts. Learn how Mercer US Health overhauled their strategy to boost web traffic, reduce their CPL, and score high-intent leads through a content-centric approach.
This case study explores how:
Mercer US Health produced specialized content tailored to their target vertical
More than 60% of engagement originated from dormant and net-new accounts
Targeted, consumer-focused campaigns produced results 97% more affordable than other paid media
NetLine's hyper-filtration met Mercer US Health's segmentation criteria and delivered 36% fewer rejected leads
Seamless connection with email and CRM tools enabled real-time analysis and relationship building
Mercer US Health discovered the secret to breaking into net-new accounts to reach targeted professionals who are in-market for the solutions they sell. See how they generated sustainable growth and quality pipeline through a content- powered strategy—and why they've relied on NetLine for years to drive marketing success.