<< Back to Resources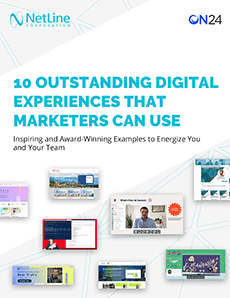 10 Outstanding Digital Experiences That Marketers Can Use
The digital-first world is here and companies of all sizes need to know how to accommodate it. But where to start when it comes to crafting engaging digital experiences?
Check out this lookbook to discover 10 inspiring and award-winning digital experiences that will help level up your B2B strategy. We combined our first-party data with ON24's to share the hottest tips and latest trends to accelerate engagement.
In this lookbook you'll learn:
The basic building blocks of modern digital experiences
What makes a comprehensive digital experience work and why
How to combine webinars, personalized landing pages and engagement hubs into an experience
Discover what it takes to go from simple webinars to complex, fully-integrated digital experiences.