<< Back to Resources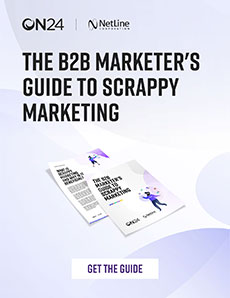 The B2B Marketer's Guide to Scrappy Marketing
As B2B marketers, we have too much to do and too little time. Targets continue to increase, yet our resources remain the same.
When perfection becomes the enemy of productivity, it's time to pause and consider a new way of getting stuff done. The notion of "scrappy" marketing means getting out of your own way to do more by taking a hard look at workflows, and identifying the true barriers to generating more content.
Inside you'll discover:
How to leverage external data to generate campaign ideas
Ways to improve your webinar strategy that yield more content and fuel lead generation
Methods of amplifying webinar content to extract more value, more ROI
How to measure and replicate scrappy techniques time and again
The B2B Marketer's Guide to Scrappy Marketing has the answers, offering marketers a way to be more agile with their marketing, rethink traditional processes that bog us down and offer practical tips to rapidly get campaigns out the door.
There's no time to waste – download this report and start getting scrappy with your marketing!