<< Back to Resources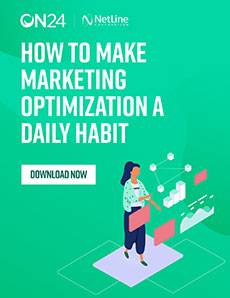 How to Make Marketing Optimization a Daily Habit
As the speed of change continues to increase, optimization becomes a vital tool for marketers to keep delivering results in the face of steep competition and rising targets.
Whether you're a Chief Marketing Officer, a Chief Revenue Officer, or anyone leading marketing efforts in your organization, you'll know that optimization leads to a host of benefits: a better buyer experience, higher conversion and closing rates and ultimately, increased customer lifetime value.
But most discussion around optimization is geared towards B2C marketers, who typically deal with single buyers and simple sales cycles. What should B2B marketers be doing – and how can leaders set the foundations to make continual optimization a lasting habit?
To help you in your journey, get the actionable steps you'll need to make optimization a part of your day-to-day, including:
Why optimization is different for B2B marketers and why it's vitally important.
Why optimization should cover the entire customer journey and not just the stages traditionally 'owned' by marketing.
What the common barriers to optimization are and how you can dismantle them.
Why benchmarking is a crucial element in setting optimization goals.
The steps you should take to build an optimization culture.
Get the tools you need to exceed customer expectations and stay ahead of the competition!