NetLine Reports Dramatic Shift in HR Content Consumption Trends Affecting B2B Marketers
LOS GATOS, Calif., Jan. 17, 2017 /PRNewswire/
-- The Human Resources buying committee has changed and B2B marketers will need to account for the expansion in their targeting strategies to drive meaningful results this year. In a new industry report from NetLine Corporation,
2017 State of Human Resources: Content Consumption and Demand Report
, deep insights into the research patterns of HR professionals have been uncovered. Analysis into the active HR personas, HR content trends, and the most in-demand audiences of HR companies was completed using the NetLine B2B content syndication lead generation network that processed more than 8.5 million leads in 2016. The industry report is aimed at empowering human resource organizations with powerful insights and advanced demand generation strategies to run more robust lead generation campaigns this year.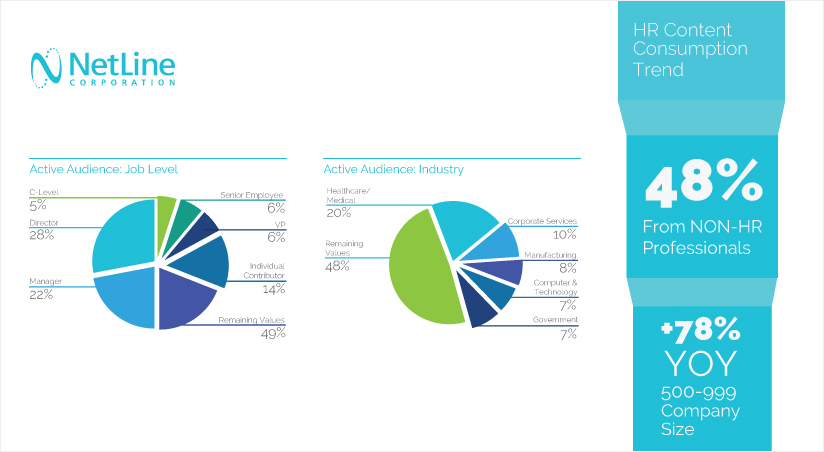 In 2016, content consumption by HR professionals increased more than 15% YOY; in the examination of the professionals, the trends tell a story of expansion and diversification. Self-classified HR professionals consumed 52% of HR content, while 48% was driven by a diverse group of professionals from 'Executive', 'Information Technology', and 'Business Specialists' job areas. Further, the report showed that 20% of the active HR audience was comprised of mid-level professionals including: 'Senior Employees', 'Individual Contributors', and 'Owners,' in contrast to highly targeted and coveted senior-level leadership. CEO and Founder of NetLine Corporation, Robert Alvin, explains what this shift means for marketers:
The profile of active human resource professionals consuming content has continued to both broaden and deepen within organizations this year. Marketers must be mindful of possible opportunities existing between campaign target personas and market realities recognized within the greater HR functional landscape. More often than not, your target 'decision maker' is realistically an aggregate of a number of influencers who help foster the final recommendation within the organization.
Perpetual changes in the HR industry have caused organizations to struggle to remain knowledgeable and compliant, causing a need for tools and services to lighten the burden. Professionals are in constant need of information to drive future purchase decisions, making the "significance of content within the buying process priceless" and "B2B content syndication lead generation [a] rapidly growing solution for demand generation," stated the report.
"We've set out on a journey to bring B2B marketers real content consumption insights they can't find anywhere else. The human resources report is the first in a continuing series of industry reports NetLine will release this year. This is our next step to ensuring B2B marketers achieve success with NetLine," shared Robert Alvin.
The 2017 State of Human Resources: Content Consumption and Demand Report is available now,
download the report
.
Research and Media Inquiries:
To request production or use of a NetLine Corporation Content Consumption Industry Report please contact: Amanda Dooley, 215-855-3547,
adooley@netline.com
.
About NetLine Corporation:
NetLine Corporation empowers B2B Marketers with the reach, technology, and expertise required to drive scalable lead generation results and accelerate the sales funnel. Operating the largest B2B content syndication lead generation network, NetLine reaches 125 million unique visitors and processes more than 700 thousand leads monthly across 300 industry sectors. NetLine's AudienceTarget™ technology drives prospect discovery, quality customer lead acquisition, and buyer engagement from real prospect intent as professionals consume content directly across the network. Superior quality, on demand access, and advanced campaign reports enable all clients to achieve lead generation success. Founded in 1994, NetLine is privately held and headquartered in Los Gatos, California. Successful B2B Marketers Start with NetLine, visit
www.netline.com
.