NetLine Study Reveals Significant Gap in IT Content Marketing Strategies and Market Realities
LOS GATOS, Calif., Feb.7, 2017 /PRNewswire/
-- B2B marketers have a growing opportunity to reach IT decision makers by acknowledging the changes in content consumption trends and their past mismanagement of prospects. In a new industry report from NetLine Corporation,
2017 State of Information Technology: Content Consumption and Demand Report
, deep insights into the research patterns of IT professionals have been uncovered. Analysis into the active IT personas, IT content trends, and the most in-demand audiences of IT companies was compiled using the NetLine B2B content syndication lead generation network that processed more than 8.5 million leads in 2016. The industry report will empower IT marketers with powerful insights into topic specific content segments including IT data tools, enterprise applications, infrastructure, security, and storage to optimize lead generation strategies today.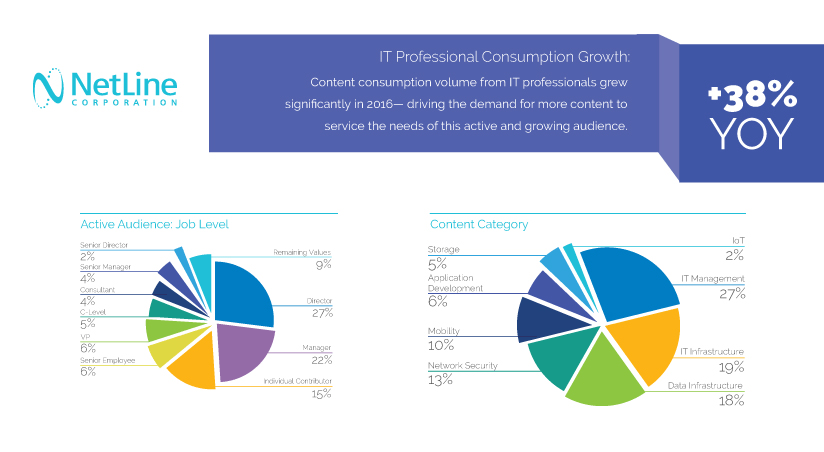 In 2016, content consumption volume from IT professionals grew by 38% and 54% of the active audience consumed more than one piece of content. Further, 11% of the active IT audience consumed more than 10 resources, averaging only 11 days between content requests. Robert Alvin, CEO and Founder of NetLine Corporation explained why the demand for IT content is surging,
"the IT Department is under pressure to support organizations from all sides—each requiring a unique set of skills, knowledge, and experience. Now more than ever IT professionals need to be more informed; there is a higher thirst and voracity for a variety of pertinent content."
The industry report tackles a hot button topic in the lead nurture process, the consumption gap – the timespan between the content request and the moment the content is opened, measured in hours. The analysis showed that active IT professionals averaged more than twenty-four hours to open the content and senior-level leadership more than thirty hours. NetLine is making a recommendation to allow for 2 days before contacting, especially in the case of long-form content consumption.
"We want B2B marketers to be successful – it's as simple as that. We've always provided the largest B2B content syndication lead generation network and solutions to generate net-new quality leads for our clients. Now we are layering in deep content consumption insights that they can't find anywhere else," shared Robert Alvin.
The 2017 State of Information Technology: Content Consumption and Demand Report is available now,
download the report
.
Research and Media Inquiries:
To request production or use of a NetLine Corporation Content Consumption Industry Report please contact: Amanda Dooley, 215-855-3547,
adooley@netline.com
.
About NetLine Corporation:
NetLine Corporation empowers B2B Marketers with the reach, technology, and expertise required to drive scalable lead generation results and accelerate the sales funnel. Operating the largest B2B content syndication lead generation network, NetLine reaches 125 million unique visitors and processes more than 700 thousand leads monthly across 300 industry sectors. NetLine's AudienceTarget™ technology drives prospect discovery, quality customer lead acquisition, and buyer engagement from real prospect intent as professionals consume content directly across the network. Superior quality, on demand access, and advanced campaign reports enable all clients to achieve lead generation success. Founded in 1994, NetLine is privately held and headquartered in Los Gatos, California. Successful B2B Marketers Start with NetLine, visit
www.netline.com
.