2017 Content Summit for B2B Marketers Sponsored by NetLine with Session from David Fortino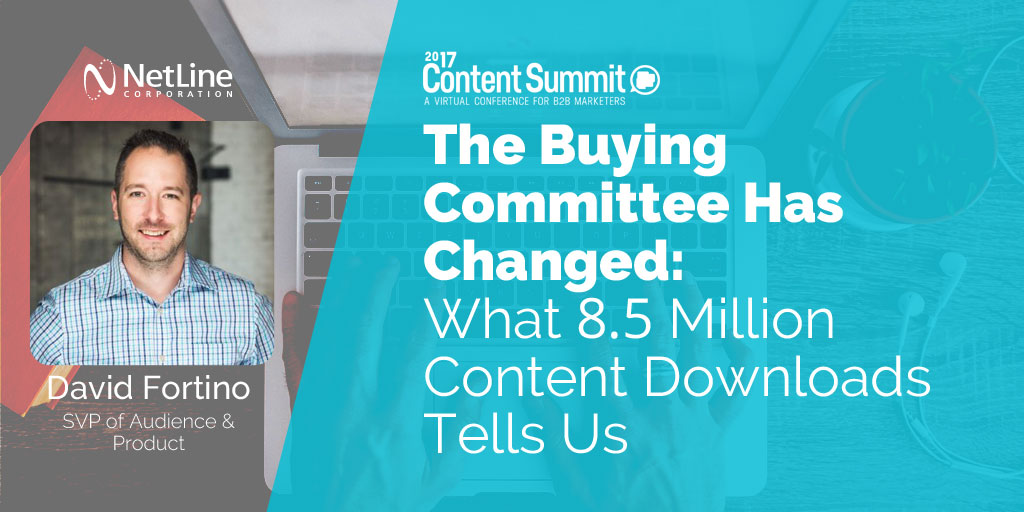 LOS GATOS, Calif., February 10, 2017 / 2017 Content Summit /
-- The 2017 Content Summit is a 5-day virtual conference, dedicated to sharing the most effective B2B content marketing strategies and tactics. Each session from the summit was delivered by B2B marketing executives and thought leaders. More than 50 video sessions were showcased covering a collection of topics geared towards empowering marketers to take their content to the next level. NetLine Corporation co-sponsored the event with Sweet Fish Media and presented a session on new content consumption research for B2B marketers.
David Fortino, SVP of Audience and Product at NetLine Corporation, presented at the 2017 Content Summit,
The Buying Committee Has Changed: What 8.5 Million Content Downloads Tells Us
. The session featured an insightful discussion with host, James Carbary of Sweet Fish Media. Fortino and Carbary examined the latest B2B research report published by NetLine,
2017 State of IT Content Consumption and Demand Report for IT Marketers
, and identified the pivot marketers need to be making this year to be successful with their content and lead generation strategies. Fortino stated:
"...come to grips with the fact that reaching exclusively into the C-suite is near impossible and if you're a marketer and you're trying to do that, I offer severe caution that this perhaps isn't the most sound strategy for you to explore. So the one key takeaway there was that, ok so that's [...] the bad news. What's the good the good news? The good news is that there are literally [dozens] of influencers surrounding that key decision-maker [...] try to reach those folks and influence the ultimate decision-maker in the process."
B2B marketers can watch the full session here,
The Buying Committee Has Changed: What 8.5 Million Content Downloads Tells Us
, and access all of the sessions for free on the 2017 Content Summit website.
About Sweet Fish Media:
Sweet Fish Media produces podcasts for B2B companies. The Sweet Fish Media service allows you to partner with your ideal clients to create industry specific content through an interview-based podcast. Podcasts are hard to produce, let us do it for you.
www.sweetfishmedia.com
About NetLine Corporation:
NetLine Corporation empowers B2B Marketers with the reach, technology, and expertise required to drive scalable lead generation results and accelerate the sales funnel. Operating the largest B2B content syndication lead generation network, NetLine reaches 125 million unique visitors and processes more than 700 thousand leads monthly across 300 industry sectors. NetLine's AudienceTarget™ technology drives prospect discovery, quality customer lead acquisition, and buyer engagement from real prospect intent as professionals consume content directly across the network. Superior quality, on demand access, and advanced campaign reports enable all clients to achieve lead generation success. Founded in 1994, NetLine is privately held and headquartered in Los Gatos, California. Successful B2B Marketers Start with NetLine, visit
www.netline.com
.