NetLine Corporation Research Analyzed 8.5 Million Leads to Aid B2B Marketers' 2017 Content Strategy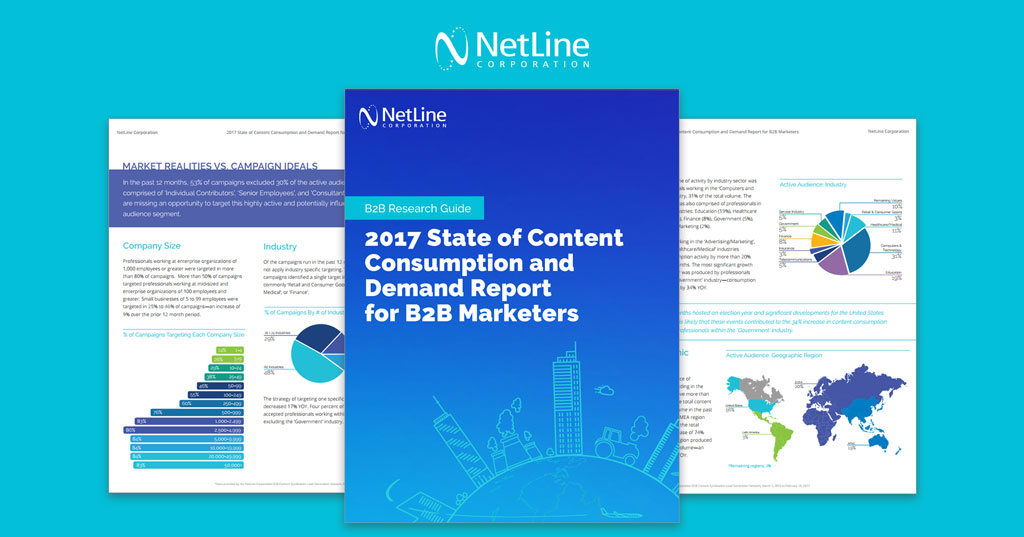 LOS GATOS, Calif., March 29, 2017 /PRNewswire/
-- New research examining content consumption and lead generation strategy patterns for B2B marketers has been released by NetLine Corporation in the
2017 State of Content Consumption and Demand Report.
2017 State of Content Consumption and Demand Report.
More than 8 million leads generated by content syndication campaigns servicing enterprise-level organizations to startups were analyzed in the research. The report features a comparative analysis between the professionals actively consuming long-form content and the in-demand personas marketers are actively seeking to reach. Insights on content, targeting, and lead nurture strategies have isolated key opportunities for marketers to optimize content-based demand generation strategies and exceed performance goals.
This year, NetLine Corporation published a series of
research reports
analyzing the content consumption behavior of professionals active across their network, the largest B2B content syndication lead generation network available today, to empower marketers with actionable data to make smarter demand generation strategy decisions. In the new global report, content consumption volume increased 36% in the past 12 months and 20% of the active audience consumed more than 5 pieces of content, highlighting that the demand for long-form content is rapidly growing.
In a comparison of the active audience versus the in-demand personas,
NetLine reported
NetLine reported
that 53% of lead generation campaigns excluded 30% of the active audience, comprised of 'Individual Contributors', 'Senior Employees', and 'Consultants'. Additionally, 98% of campaigns utilized content with a 'Top of Funnel' strategy while only 2% addressed deeper stages of the buyer's journey. Robert Alvin, CEO and Founder of NetLine Corporation, weighed in on the research,
"we have identified tactical changes B2B marketers must make at each stage of their demand strategy in an analysis of our first-party data. The majority of marketers do not have access to this data and risk carrying past strategies forward. Our goal is to enable marketers to run more successful lead generation initiatives this year."
Performance-based goals have led to stricter forms of measurement holding B2B marketers accountable for their budget and ROI, emphasizing the importance of lead-based and revenue-driving opportunities. NetLine's new research report is aimed at surfacing data driven insights extracted from real first-party behavior for all B2B marketers to apply to their demand generation strategy this year.
The 2017 State of Content Consumption and Demand Report is available now,
download the report.
download the report.
Research and Media Inquiries:
To request production or use of a NetLine Corporation Content Consumption Industry Report please contact: Amanda Dooley, 215-855-3547,
adooley@netline.com
.
About NetLine Corporation:
NetLine Corporation empowers B2B Marketers with the reach, technology, and expertise required to drive scalable lead generation results and accelerate the sales funnel. Operating the largest B2B content syndication lead generation network, NetLine reaches 125 million unique visitors and processes more than 700 thousand leads monthly across 300 industry sectors. NetLine's AudienceTarget™ technology drives prospect discovery, quality customer lead acquisition, and buyer engagement from real prospect intent as professionals consume content directly across the network. Superior quality, on demand access, and advanced campaign reports enable all clients to achieve lead generation success. Founded in 1994, NetLine is privately held and headquartered in Los Gatos, California. Successful B2B Marketers Start with NetLine, visit
www.netline.com
.