NetLine Academy Introduced as NetLine Aims to Better Educate B2B Demand Generation Marketers
The company that democratized B2B lead generation is now empowering marketers and agencies with all the tools necessary to become a NetLine platform expert.
CAMPBELL, Calif., March 14, 2023
-- Today, NetLine, an Informa Business, announced its launch of
NetLine Academy
, a collection of self-paced modules aimed to assist B2B demand generation marketers gain an expert-level understanding of NetLine's Portal.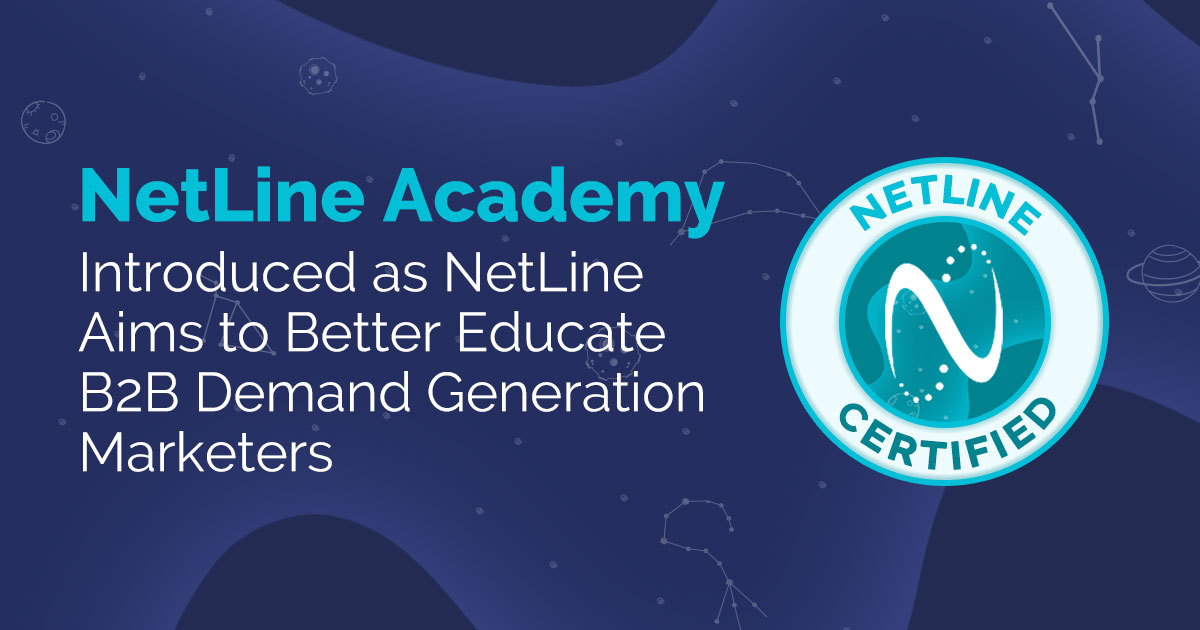 Designed with B2B marketers, agencies, and media companies in mind, NetLine Academy equips these professionals with the tools necessary to become a NetLine Portal expert. By taking control of their knowledge, demand generation professionals can position themselves for success, enabling greater efficiencies in less time.
NetLine Academy's content includes a mix of resources, such as videos, flip cards, and quizzes, which require the user to recall the lesson's information. B2B marketers, agencies, and media companies can achieve their first certification, NetLine Cadet, within 30 minutes or less. Upon completion, users earn a NetLine Cadet certificate and companion badge, which can be added to LinkedIn profiles. Certifications are available on an individual and/or team-wide basis. Furthermore, one need not be a current customer to receive the benefits of being certified. In fact, NetLine Academy has been designed to offer foundational demand generation skills regardless of their adoption of the NetLine Portal.
Client Services VP Melissa Becht shared her enthusiasm for Academy's debut. "NetLine Academy is a tremendous resource for B2B Marketers to level up their Portal demand generation campaign execution skills," Becht said. "By taking time to learn NetLine through and through, our customers will truly be in the driver's seat when it comes to shaping the outcomes they seek from our platform."
As the #1 Buyer Engagement Platform, NetLine's reach includes virtually every B2B buyer imaginable, resulting in 37M+ different filtering variations within the company's Portal. Academy will teach B2B demand generation marketers how to leverage each permutation relevant to a given campaign, empowering them to work swiftly and independently.
Chief Strategy Officer David Fortino shared his thoughts on how Academy will support more B2B organizations achieve their lead generation goals by teaching their employees. "True to our form of educating today's B2B Marketer to make more effective decisions tomorrow, we're excited to announce the release of NetLine Academy!" Fortino said. "Given the breadth of NetLine's offerings, we expect Academy to play a pivotal role in shaping the performance of our client's knowledgebase and campaign executions moving forward."
NetLine is committed to continuing investment in training for its customers. The company intends to release additional modules, courses, and resources for the Academy later in Q2 2023. Additionally, NetLine expects to release additional certifications geared towards more advanced topics throughout the year.
About NetLine Corporation:
NetLine Corporation empowers B2B Marketers with the reach, technology, and expertise required to drive scalable lead generation results and accelerate the sales funnel. Operating the largest B2B content syndication lead generation network, NetLine reaches 125 million unique visitors and processes more than 700 thousand leads monthly across 300 industry sectors. NetLine's AudienceTarget™ technology drives prospect discovery, quality customer lead acquisition, and buyer engagement from real prospect intent as professionals consume content directly across the network. Superior quality, on demand access, and advanced campaign reports enable all clients to achieve lead generation success. Founded in 1994, NetLine is a part of Informa Tech, a FTSE100 leading provider of market insight and market access to the global technology industry. Successful B2B Marketers Start with NetLine, visit
www.netline.com
.