NetLine's 2023 Consumption Report Highlights Surging B2B Content Demand
NetLine's award-winning annual report returns, revealing 33.4% of B2B buyers expect to make a purchase decision within the next 12 months.
CAMPBELL, Calif., March 29, 2023
-- Today, NetLine, an Informa Business, published the seventh edition of its award-winning, flagship research report—The 2023 State of B2B Content Consumption and Demand Report for Marketers.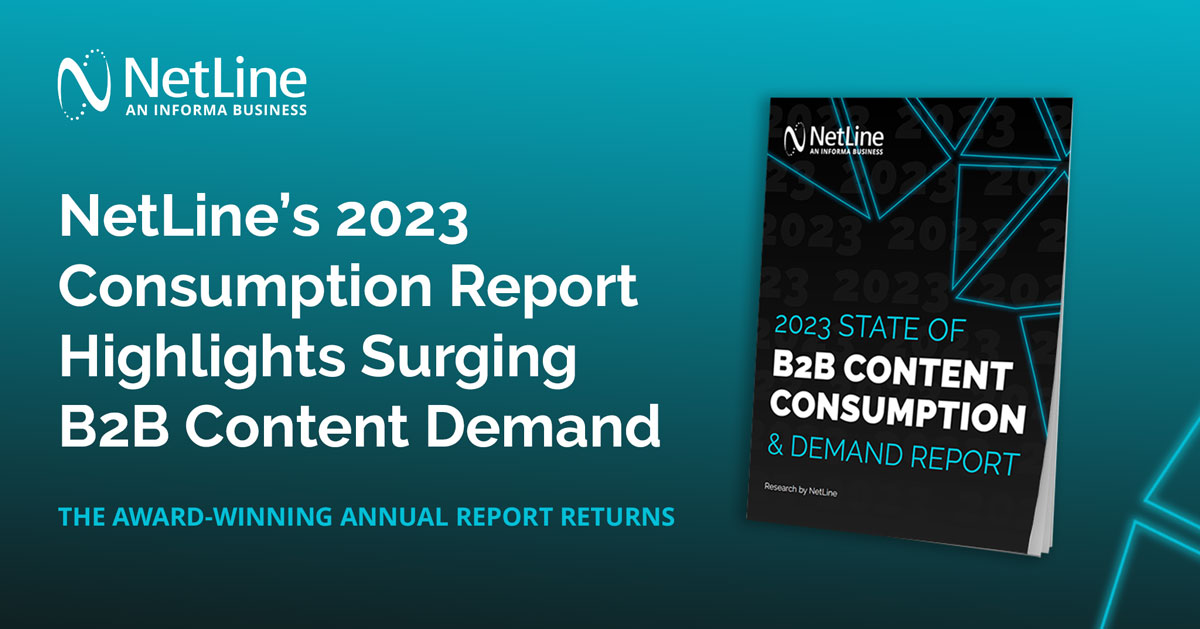 This comprehensive study details the platform's first-party content consumption and demand data from the previous 12 months, exploring key insights from the content consumption behaviors of millions of B2B buyers. The company's annual report lays the groundwork for B2B marketers to make data-backed decisions for their centric content demand generation marketing programs.
The successor to its sixth edition and winner of The Killer Content Award's Finny for Best Research-Based Content, NetLine's 2023 report analyzed a record 5.4 million first-party and buyer-level registrations—an 18.8% increase year-over-year. The company also stated that total demand has risen 54.8% since 2019; a noteworthy figure highlighting the ever-growing importance of content marketing acting as a key driver of buyer engagement. Additionally, NetLine reported a 12.2% reduction (4.6-hours) in overall time to consume content, a sign that professionals are consuming with a greater sense of urgency.
A year after introducing unrivaled buyer-level intent data insights, NetLine's flagship report again explores the impact and advantages offered by this peerless data. In total, 113k+ first-party buyer-level intent observations were analyzed, a 57% growth year-over-year, from a variety of industries in a multitude of categories. From this data, the company found that 18.8% of B2B professionals not only have confirmed projects in play but expect to be making a purchase decision within the next six months, with 8.8% looking to invest in three months or less.
NetLine's buyer-level intent research also further examined and confirmed the unique relationship between Webinar registrations and purchase intent. The research found that users registering for Live Webinars are 22.0% more likely to be correlated with a purchase decision within the next three months, while Users registering for On-Demand Webinars are 50.0% more likely to make an investment within the next six months compared to other formats.
NetLine's research unearthed hundreds of incredible insights into the behaviors of B2B buyers. Here are a few key highlights from this volume:
33.4% of B2B professionals expect to make a purchase decision to support a confirmed project within the next 12 months.
Professionals registering for Live Webinars are 107% more likely to make a purchase decision within 3 months.
Webinar registrations increased 81.2%.
Consumption across the C-Suite rose 7.3%.
Newsletter registrations soared 307.2%.
Despite the fact that users were 3.5x more likely to register for eBooks compared to White Papers, Marketers produced 30% more White Papers.
Sharing his thoughts on the 2023 State of B2B Content Consumption and Demand Report for Marketers, NetLine CEO Robert Alvin focused on the benefits and impact of buyer-level intent findings. "Adding richer context to "Who" and "What" is the segment in which NetLine stands alone," Alvin said. "Our ability to delve into the topic-level interests and the immediate needs, priorities, and timelines of B2B buyers on a first-party level is the last mile of intent data businesses have long coveted. Alongside our historical consumption data, our 2023 B2B Content Consumption Report delivers observations that truly reside in a class all their own."
The company credits its unparalleled access to first-party data for making its seventh annual report possible. Obtained from B2B professionals actively consuming content across every stage of the buyer's journey, NetLine's 2023 State of Content Consumption and Demand Report provides tangible behavioral insights and removes conjecture for Marketers to make real-world decisions.
NetLine's 2023 State of B2B Content Consumption and Demand Report for Marketers is now
available for download
.
About NetLine Corporation:
NetLine empowers B2B Marketers with the reach, technology, and expertise required to drive scalable lead generation results and accelerate the sales funnel. Operating the largest B2B content syndication lead generation network, NetLine reaches 125 million unique visitors and processes more than 700 thousand leads monthly across 300 industry sectors. NetLine's AudienceTarget™ technology drives prospect discovery, quality customer lead acquisition, and buyer engagement from real prospect intent as professionals consume content directly across the network. Superior quality, on demand access, and advanced campaign reports enable all clients to achieve lead generation success. Founded in 1994, NetLine is a part of Informa Tech, a FTSE 100 leading provider of market insight and market access to the global technology industry. Successful B2B Marketers Start with NetLine, visit
www.netline.com
.