NetLine Corporation Recognized as Leader by G2 Crowd for 'Lead Capture' Technology
LOS GATOS, Calif., April 4, 2018 /
-- NetLine has been recognized as a Leader in the Best Lead Capture Software category based on its high levels of customer satisfaction and customer likeliness to recommend ratings from real users on G2 Crowd, the world's leading business solutions review website.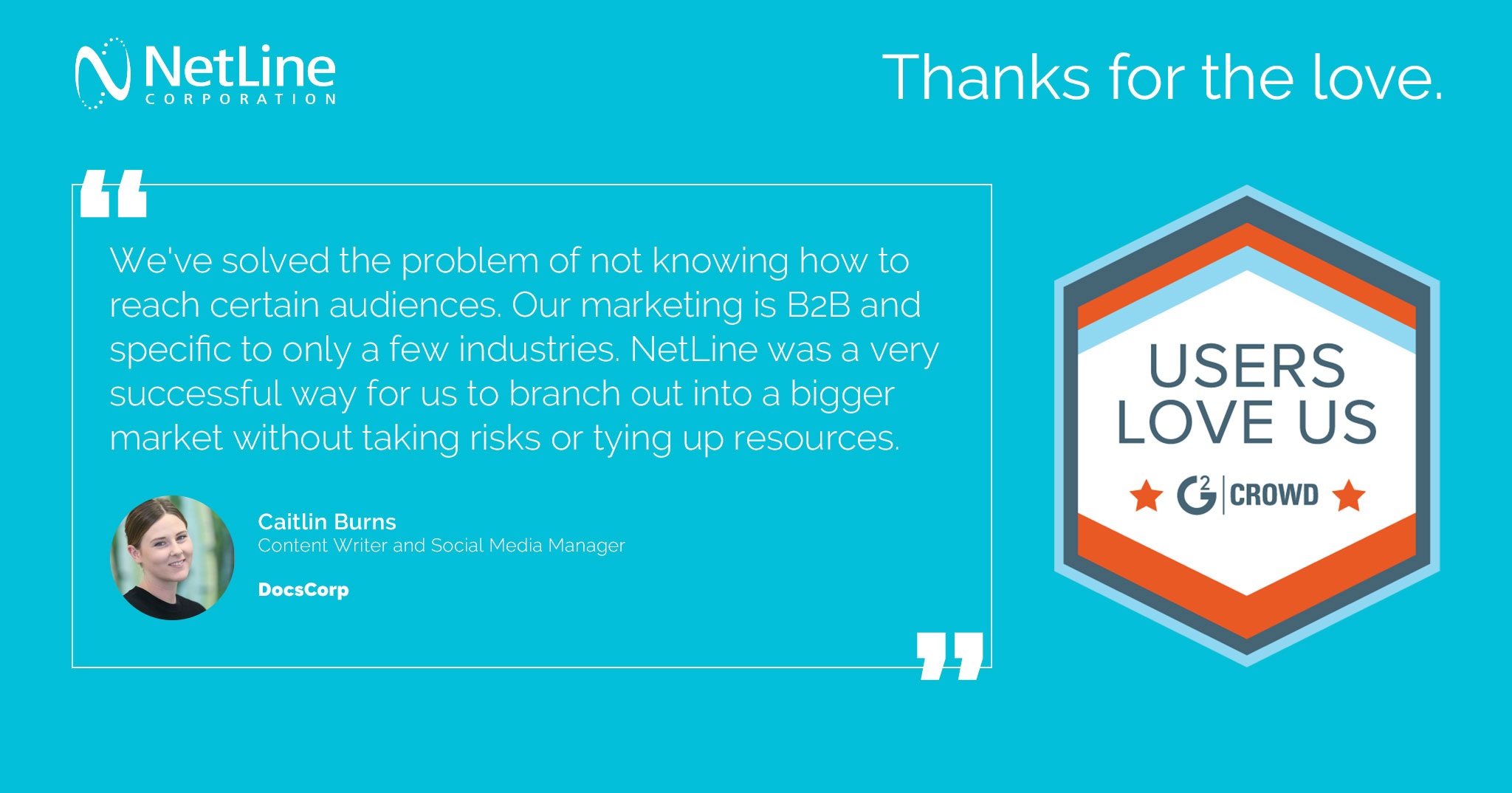 Offering a diverse set of solutions for marketers, publishers and agencies, NetLine provides a lead generation platform that leverages the largest B2B content syndication network to drive repeatable and scalable lead generation success. Using predictive technologies and hyper-targeting capabilities, marketers can leverage NetLine to drive pipeline for their organization or to fit their clients' needs.
NetLine achieved the Leader rating on the Spring 2018 Grid and Index reports by receiving positive reviews, from verified users compared to similar products in the Lead Capture Software category. For inclusion in the report a product must have received ten or more reviews.
NetLine CEO and Founder, Robert Alvin shared his thoughts on the recognition from G2 Crowd and clients, "We are excited and honored to be recognized as a Leader in Lead Capture by our customers and G2 Crowd. Feedback from our clients drives us in our approach to innovation in lead generation solutions. Through relationships with clients and shared vision to democratize lead generation, our technology helps all marketers give their content and brand a voice."
This distinction follows a recent release of several enhancements to the NetLine Portal. Interactive and dynamic reporting features provide marketers with complete control and visibility into campaign performance. With greater quantity and ease of use for analyzing data, marketers are empowered to optimize campaigns based upon real-time consumption data. Impressions are part of this data, showing content marketers how their content is resonating with the larger audience footprint that sits outside of the target profile.
Between the recent updates and the ongoing commitment to customer-focused solutions, NetLine demonstrates the fundamentals of the G2 Crowd qualifications for this recognition.
"Rankings on G2 Crowd reports are based on data provided to us by real users," said Michael Fauscette, chief research officer, G2 Crowd. "We are excited to share the achievements of the products ranked on our site because they represent the voice of the user and offer terrific insights to potential buyers around the world."
Learn more about what real users have to say (or leave your own review of NetLine) on G2 Crowd's
NetLine Corporation review
page!
About NetLine Corporation:
NetLine Corporation empowers B2B Marketers with the reach, technology, and expertise required to drive scalable lead generation results and accelerate the sales funnel. Operating the largest B2B content syndication lead generation network, NetLine reaches 125 million unique visitors and processes more than 700 thousand leads monthly across 300 industry sectors. NetLine's AudienceTarget™ technology drives prospect discovery, quality customer lead acquisition, and buyer engagement from real prospect intent as professionals consume content directly across the network. Superior quality, on demand access, and advanced campaign reports enable all clients to achieve lead generation success. Founded in 1994, NetLine is privately held and headquartered in Los Gatos, California. Successful B2B Marketers Start with NetLine, visit
www.netline.com
.
About G2 Crowd
G2 Crowd
, the world's leading business solution review platform, leverages more than 381,000 user reviews to drive better purchasing decisions. Business professionals, buyers, investors, and analysts use the site to compare and select the best software and services based on peer reviews and synthesized social data. Every month, more than one million people visit G2 Crowd's site to gain unique insights.