NetLine Advances with Account-Based Marketing Platform Powered by First-Party Intent Data
As the authority in B2B lead generation executing campaigns for the world's most influential companies, NetLine's expertise combines first-party data sources, account targeting technology, and the largest b2b content syndication network available to Marketers.
LOS GATOS, May 17, 2016 /PRNewswire/
– NetLine Corporation announces the only content syndication lead generation platform with account-based marketing solution powered by real-time first-party intent data, extracted directly from in-market content consumption. Account-based marketing (ABM) is rapidly rising as a top industry trend for 2016; however, NetLine Corporation has been utilizing this method of demand generation for years alongside a diversified portfolio of quality improvement lead generation strategies. Today, NetLine is proud to announce the expansion of their ABM solution to dynamically target account contacts while actively in-market researching topics across NetLine's network of over 20 million monthly touchpoints.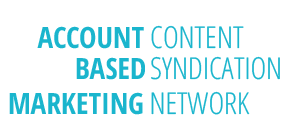 As the authority in B2B lead generation with more than 20 years of experience executing campaigns for the world's most influential companies, NetLine's expertise combines first-party data sources, account targeting technology, and automation. The synergy of user intent profiling alongside real-time dynamic ABM targeting continues NetLine's progression to be the top intent-based predictive lead generation platform. As one of the only players offering dynamic real-time targeting, Robert Alvin, CEO and Chairman of
NetLine Corporation
explained why this is a critical element for an ABM solution, "the ability to deploy ABM tactics dynamically as prospects are consuming content exponentially increases prospecting insights and account scoring for optimized nurturing and sales funnel conversion." By integrating account-based marketing dynamically into all user touchpoints, with targeting capabilities based upon real-time user intent data, NetLine has raised the bar for their distant competition.
"Owning the marketing technology and largest b2b content syndication network to deploy ABM targeting to prospects while actively researching content specific to their business needs/challenges is fundamentally more compelling versus the established alternatives – nearly all other solutions are basing their model on older compiled data based typically on non-specific 3rd party sources and not first-party user intent. We're uniquely positioned to offer Marketers an accurate, actionable, and real-time ABM targeting solution based on the discrete content consumption behavior of our audience." (Robert Alvin, CEO and Chairman of NetLine Corporation)
The integration of account targeting capabilities into every user touchpoint is only half of NetLine's comprehensive ABM solution. NetLine's best-of-breed professional targeting suite and database have been molded into an unparalleled intent-based account development tool, structured to identify, update and complete audience profiles. This all-encompassing solution enables clients to build supremely optimized account lists, run dynamic lead generation campaigns by account, and scale to the largest intent-based professional audience network. As a top cited issue for companies attempting account-based marketing this year, "accurate data" is the basis of NetLine's solution – combined with the technology and strategy to align Sales and Marketing efforts and increase close rates.
About NetLine Corporation:
NetLine Corporation is the number one content syndication lead generation provider aimed at driving buyer engagement, customer lead acquisition and sales pipeline performance. Its AudienceTargeting™ technology and global multi-channel network of more than 15,000 website properties enable B2B marketers to reach a diverse audience of more than 125 million business professionals across 300 industry sectors. NetLine's multi-channel content delivery model allows for brand customization, content adaptation and flexible market access through publisher websites, expert blogs, email, search engines, social media networks, e-newsletters and mobile. Founded in 1994, NetLine is privately held and headquartered in Los Gatos, California, with operations around the globe. For more information, visit
www.netline.com
.