NetLine Corporation Releases 2018 State of B2B Content Consumption and Demand Report for Marketers
LOS GATOS, Calif., May 17, 2018 /
-- NetLine Corporation released its annual report, 2018 State of B2B Content Consumption and Demand for Marketers. Consolidating 12 months of first-party content consumption and demand data, the report delivers valuable takeaways that arm B2B marketers with a more scientific approach to campaign development and strategy.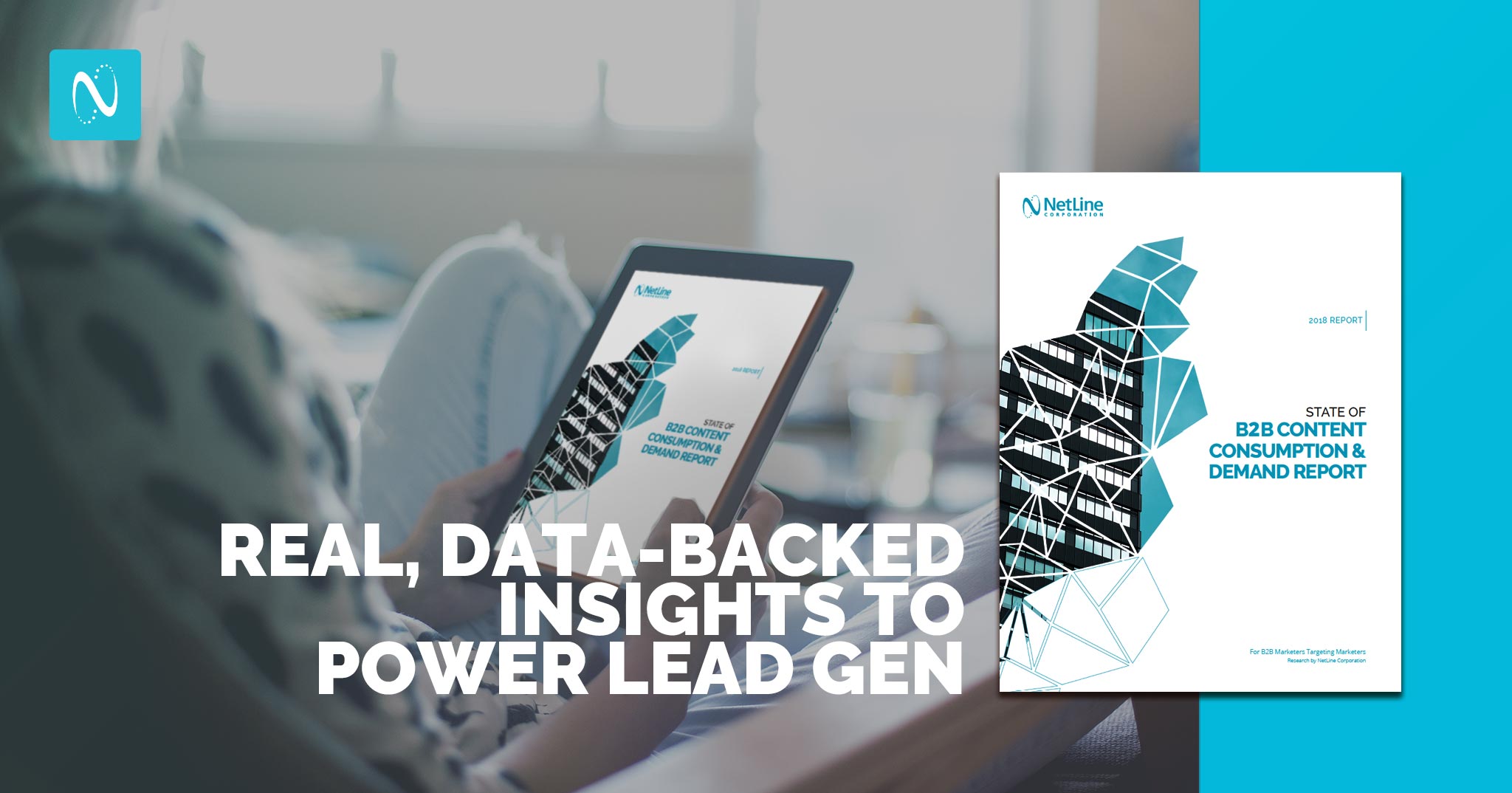 Packed with data points collected across the NetLine network, the Report reveals an important disparity between consumption trends of the active audience and in-demand audience. The active audience is comprised of users who are actively seeking content but did not meet the discernible needs of marketers trying to reach distinct audience/buyer segments. When compared to in-demand audience activity, marketers can learn more about content resonance with audiences by job level, company size or by industry.
Much like last year's data, it's evident that marketers continue to target C-level and Managers – these two job levels comprise the top in-demand audience by job level. However, this year's report delves into the profiles of the other job levels who are dominating the active audience data. Analysis of 2017 data shows that those professionals who identify as Individual Contributors have the most voracious appetite for content. Comprising nearly 30% of the active audience, these professionals have the ability to influence decision makers; the Report goes on to dissect this and other job level profiles and delivers actionable takeaways to optimize campaigns.
The 2018 State of B2B Content Consumption and Demand Report takes a slightly new form as an evolution of the 2017 Report. For those marketers who are both busy and burnt-out on reports of little substance, this year's Report speaks to a no-nonsense, but data-minded marketer looking to extract value with ease. NetLine's unique data sets are invaluable – combined with a relatable delivery and palatable visual formatting, the user experience for this year's look-back is powerful, concise and actionable.
CEO and Founder of NetLine Corporation, Robert Alvin, shares the value of blending a data-based and qualitative approach to a content syndication strategy, "This year's report takes the exclusivity of our unique and robust data sets and delivers components of marketing pillars that can be tailored to an organization's objectives. Unveiling consumption behavior for hundreds of thousands of professionals, empowers B2B marketers to propel their brand's voice, ultimately delivering the ROI and quality leads that help organizations succeed."
To download the 2018 State of B2B Content Consumption and Demand Report for Marketers, click here.
To download the 2018 State of B2B Content Consumption and Demand Report for Marketers, click here.
About NetLine Corporation:
NetLine Corporation empowers B2B Marketers with the reach, technology, and expertise required to drive scalable lead generation results and accelerate the sales funnel. Operating the largest B2B content syndication lead generation network, NetLine reaches 125 million unique visitors and processes more than 700 thousand leads monthly across 300 industry sectors. NetLine's AudienceTarget™ technology drives prospect discovery, quality customer lead acquisition, and buyer engagement from real prospect intent as professionals consume content directly across the network. Superior quality, on demand access, and advanced campaign reports enable all clients to achieve lead generation success. Founded in 1994, NetLine is privately held and headquartered in Los Gatos, California. Successful B2B Marketers Start with NetLine, visit
www.netline.com
.