NetLine Corporation Announces 2020 State of B2B Content Consumption and Demand Report for Marketers
The 4th annual report analyzes over 16 petabytes of first-party data from more than 4 million downloads on the largest B2B buyer engagement platform.
LOS GATOS, Calif., May 19, 2020 (Newswire.com)
-- Today, NetLine Corporation released its annual
2020 State of B2B Content Consumption and Demand Report for Marketers
, a comprehensive research presentation distilled from 12 months of first-party content consumption and demand data. The Report translates the content consumption patterns generated by millions of B2B buyers into actionable insights that marketers can leverage and act upon in their demand generation centric content marketing initiatives.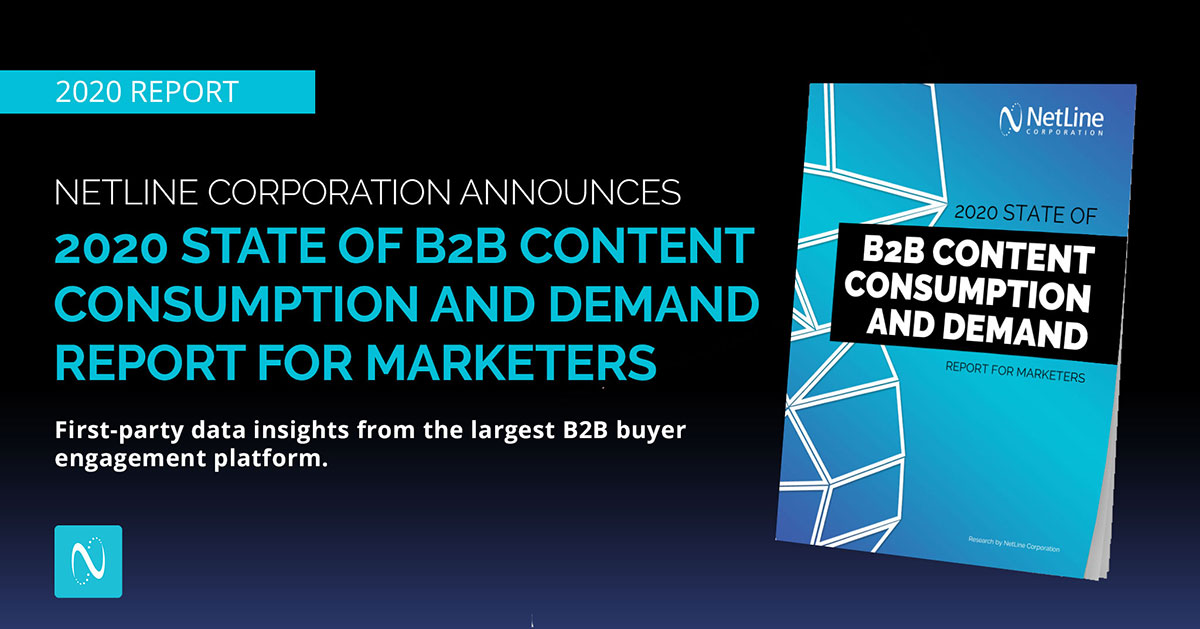 By powering the largest content-centric lead generation platform, NetLine is uniquely positioned to deliver real-time B2B content engagement information with unrivaled insights. Supported by this first-party buyer-engagement activity, the 2020 Report arms marketers with pertinent and practical insights to make real-world decisions.
Compared to last year's report, half of all job levels saw an increase in consumption time relative to the Consumption Gap — the span of time between initial content request and consumption. While it is not a complete increase across the board, this trend reverts back to what NetLine observed in its 2018 Consumption Report, which showed an increase of time to consume content. In addition, days between additional content requests rose again, slightly, for the 3rd consecutive year, continuing to emphasize the need for marketers to have a greater impact with each engagement.
In this volume, NetLine's research revealed dozens of remarkable observations into the direct behaviors of B2B buyers. Here are a few key highlights:
66% of all active B2B professionals are at or above the Manager level, illuminating the curiosity of Senior-level employees.
Senior Directors are the fastest job level to consume content requested.
Both C-Suite and Executive VPs employees took 16% longer to consume content requested.
Tuesdays and Wednesdays are the best days of the week to reach B2B audiences.
CEO and Founder of NetLine Corporation, Robert Alvin, lauds the company's ability to analyze more than 4 million first-party leads to better inform B2B marketers. "In operating the largest B2B Buyer Engagement platform on the web, where first-party users are constantly engaging with and consuming business and technical content pieces, NetLine is in a one-of-a-kind position to understand what audiences truly want," Alvin says. "By producing the only at-scale resource available, we're providing B2B marketers with fully-permissioned data they can depend on to create their own successful lead generation campaigns."
By starting with first-party insights delivered in a compact, non-linear design, marketers can target and reach the high-quality, in-market professionals their organizations need to succeed. As every marketing dollar matters and is measured, the 2020 State of B2B Content Consumption and Demand Report for Marketers gives business leaders the facts they need to inform and support key decisions and drive ROI.
To download the 2020 State of B2B Content Consumption and Demand Report for Marketers,
click here
.
About NetLine Corporation:
NetLine Corporation empowers B2B Marketers with the reach, technology, and expertise required to drive scalable lead generation results and accelerate the sales funnel. Operating the largest B2B content syndication lead generation network, NetLine reaches 125 million unique visitors and processes more than 700 thousand leads monthly across 300 industry sectors. NetLine's AudienceTarget™ technology drives prospect discovery, quality customer lead acquisition, and buyer engagement from real prospect intent as professionals consume content directly across the network. Superior quality, on demand access, and advanced campaign reports enable all clients to achieve lead generation success. Founded in 1994, NetLine is a part of Informa Tech, a FTSE100 leading provider of market insight and market access to the global technology industry. Successful B2B Marketers Start with NetLine, visit
www.netline.com
.