NetLine First to Launch Self Service Account-Based Marketing Content Syndication for B2B Marketers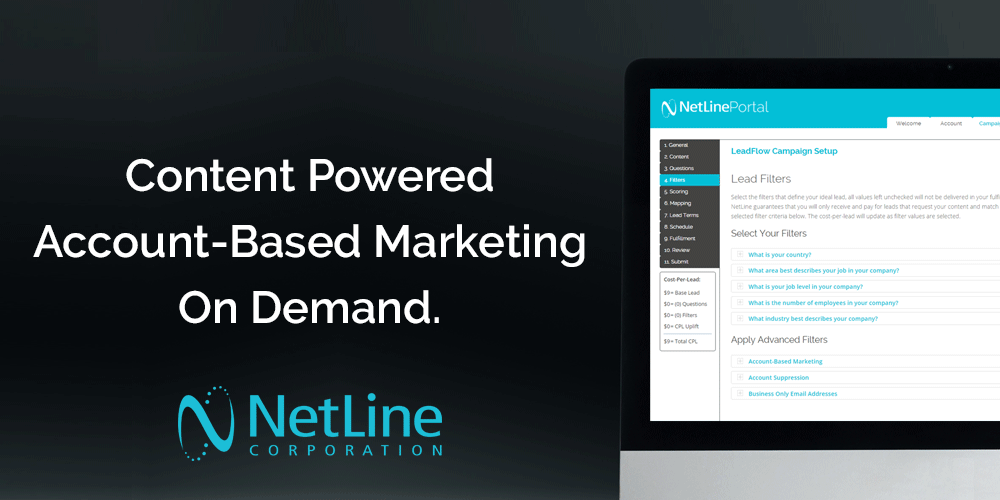 LOS GATOS, Calif., June 12, 2017 /PRNewswire/
-- Today, NetLine Corporation became the first marketing technology provider to offer self-service Account-Based Marketing (ABM) capabilities directly within their content syndication lead generation portal for B2B marketers. ABM is one of a suite of new enhancements to the
NetLine Portal,
NetLine Portal,
providing marketers the ability to run their own hyper-targeted campaigns on-demand. Connected to the largest B2B-specific content syndication lead generation network, ABM campaigns flighted with the NetLine Portal will reach intent-based audiences at the scale necessary to meet lead generation goals.
While Account-Based Marketing has become a rising trend in the marketplace, NetLine has identified a problem with the tactical approach B2B marketers are taking with ABM. NetLine Corporation CEO and Founder, Robert Alvin, examines the problem:
"We're concerned that B2B marketers are restricting their ABM efforts to display advertising and retargeting because more advanced tactics such as native content syndication are less accessible and more complex. This launch is focused on delivering a sophisticated yet simple to use ABM solution to enable all B2B marketers to run a content powered ABM strategy."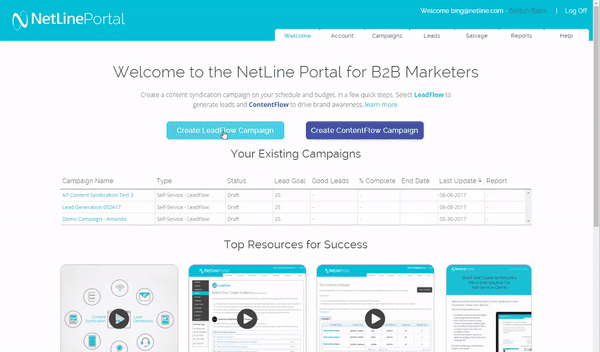 The NetLine Portal release featured a suite of hyper-targeting enhancements including account-level targeting, account suppression, advanced custom question creation, and deeper levels of lead filtering by job area and company industry. "Our goal is to give marketers the control and tools required to reach the exact prospects their organization requires for precision pipeline development," Alvin stated.
This release is the third in a series of enhancements NetLine has made in the past year to deliver the most robust content syndication lead generation platform for B2B marketers. NetLine is dedicated to providing advanced self-service and full-service content powered solutions to enable all B2B marketers to achieve scalable lead generation success. Account-Based Marketing campaigns can now be run directly in the NetLine Portal,
create a free account
create a free account
to try the new targeting capabilities.
Lead generation experts are also available to discuss your ABM strategy,
contact NetLine today
.
About NetLine Corporation:
NetLine Corporation empowers B2B Marketers with the reach, technology, and expertise required to drive scalable lead generation results and accelerate the sales funnel. Operating the largest B2B content syndication lead generation network, NetLine reaches 125 million unique visitors and processes more than 700 thousand leads monthly across 300 industry sectors. NetLine's AudienceTarget™ technology drives prospect discovery, quality customer lead acquisition, and buyer engagement from real prospect intent as professionals consume content directly across the network. Superior quality, on demand access, and advanced campaign reports enable all clients to achieve lead generation success. Founded in 1994, NetLine is privately held and headquartered in Los Gatos, California. Successful B2B Marketers Start with NetLine, visit
www.netline.com
.