NetLine Corporation Reaches 40 Million Leads Milestone with Largest B2B Content Syndication Platform
LOS GATOS, Calif., July 31, 2017 /
-- NetLine Corporation announced that they have generated over 40 million leads to date on behalf of their clients, across 300 industry sectors. NetLine's commitment to quality and passion for innovation has driven adoption and loyalty in the content-based lead generation marketplace. Reporting over two decades in business, NetLine is said to be the longest running start-up from Silicon Valley -- and the first in B2B lead generation.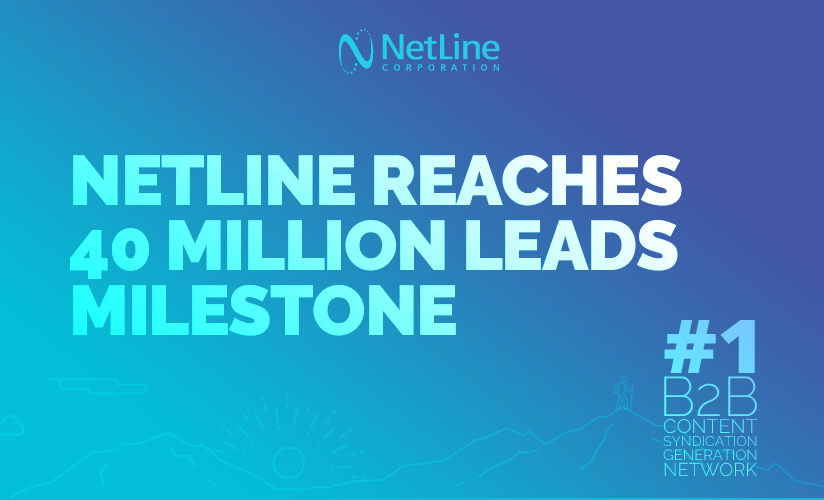 NetLine's dedication to quality and transparency led to the inception of a public
commitment statement
detailing how they deliver content-based lead generation solutions clients can trust. In the commitment, NetLine states, 'We are who we say we are, real.' NetLine Corporation CEO and Founder, Robert Alvin explains why 'real' is an important differentiator:
Lead generation ethics is an ongoing problem in the marketplace. We constantly hear from our clients about vendors making big promises, then delivering suspect data. Unfortunately, B2B marketers often don't ask the important questions about lead gen tactics and suffer the consequences via poor ROI and complaints from their Sales Team. At NetLine, we operate under five core values: accountability, customer satisfaction, innovation, integrity, and teamwork. I believe that these values have secured NetLine's reputation as a trusted and recommended lead generation solution for organizations.
Identified directly in their client campaign renewal rate of approximately 80% and client feedback, NetLine's dedication to
customer satisfaction
has produced strong client loyalty.
Infor
Senior Marketing Director, Jen McMahon, offered perspective on her experience working with NetLine,
"Our content syndication program with NetLine has delivered high quality leads for our team and we're very happy with the results. The NetLine Team is great to work with and I highly recommend working with them."
Another senior marketing professional shared,
"[NetLine] has one of the greatest customer service processes in their industry."
Today, NetLine operates the largest B2B content syndication lead generation network available on the web including more than 15 thousand industry-specific web properties and publishers. NetLine's commitment to
accountability
and
integrity
for clients can be found in the 99% publisher rejection rate driven by strict publisher vetting processes and community guidelines -- ensuring clients acquire quality leads expressing real intent while protecting their brand.
CEO, Founder, and Engineer, Robert Alvin remains dedicated to the
innovation
and continued advancement of NetLine's platform. Last month, NetLine released NetLine Portal V9.3 adding new hyper-targeting and account-based marketing (ABM) capabilities to the content syndication campaign builder, establishing NetLine as the only self-service content powered ABM solution.
The evolution of marketing solutions over 23 years earned NetLine a
Top 100 ranking on the 2016 Entrepreneur Magazine 360™ List
, for small private companies in the United States. Robert Alvin has taken the company from a trade publications business out of his home, to a full-service B2B content syndication lead generation company, to the largest B2B content syndication lead generation platform. NetLine's recent acceleration to reach the 40 million leads milestone began in 2016; the total leads processed increased 48% over the prior year. "Our growth has shown that content syndication remains a viable solution for lead generation and audience consumption of content is rapidly increasing. 40 million leads is an amazing milestone in our journey and I look forward to hitting 100 million with the support of my passionate
team
and our loyal clients," shared Alvin.
To try NetLine's trusted content syndication lead generation solution for B2B marketers, go to the
NetLine Portal
. To learn more or request a demo from their experts,
contact NetLine
.
About NetLine Corporation:
NetLine Corporation empowers B2B Marketers with the reach, technology, and expertise required to drive scalable lead generation results and accelerate the sales funnel. Operating the largest B2B content syndication lead generation network, NetLine reaches 125 million unique visitors and processes more than 700 thousand leads monthly across 300 industry sectors. NetLine's AudienceTarget™ technology drives prospect discovery, quality customer lead acquisition, and buyer engagement from real prospect intent as professionals consume content directly across the network. Superior quality, on demand access, and advanced campaign reports enable all clients to achieve lead generation success. Founded in 1994, NetLine is privately held and headquartered in Los Gatos, California. Successful B2B Marketers Start with NetLine, visit
www.netline.com
.