NetLine Corporation Delivers 1,560% ROI for e-Learning Client ITProTV
New case study reveals quick realization of high ROI via B2B content syndication lead generation on the NetLine Network
LOS GATOS, Calif., August 1, 2018 /
-- NetLine Corporation has released a landmark case study that documents the rapid success and ROI realized by e-Learning client,
ITProTV
. Leveraging NetLine's network in a series of content syndication lead generation campaigns, ITProTV saw over 1,500% ROI in only five months.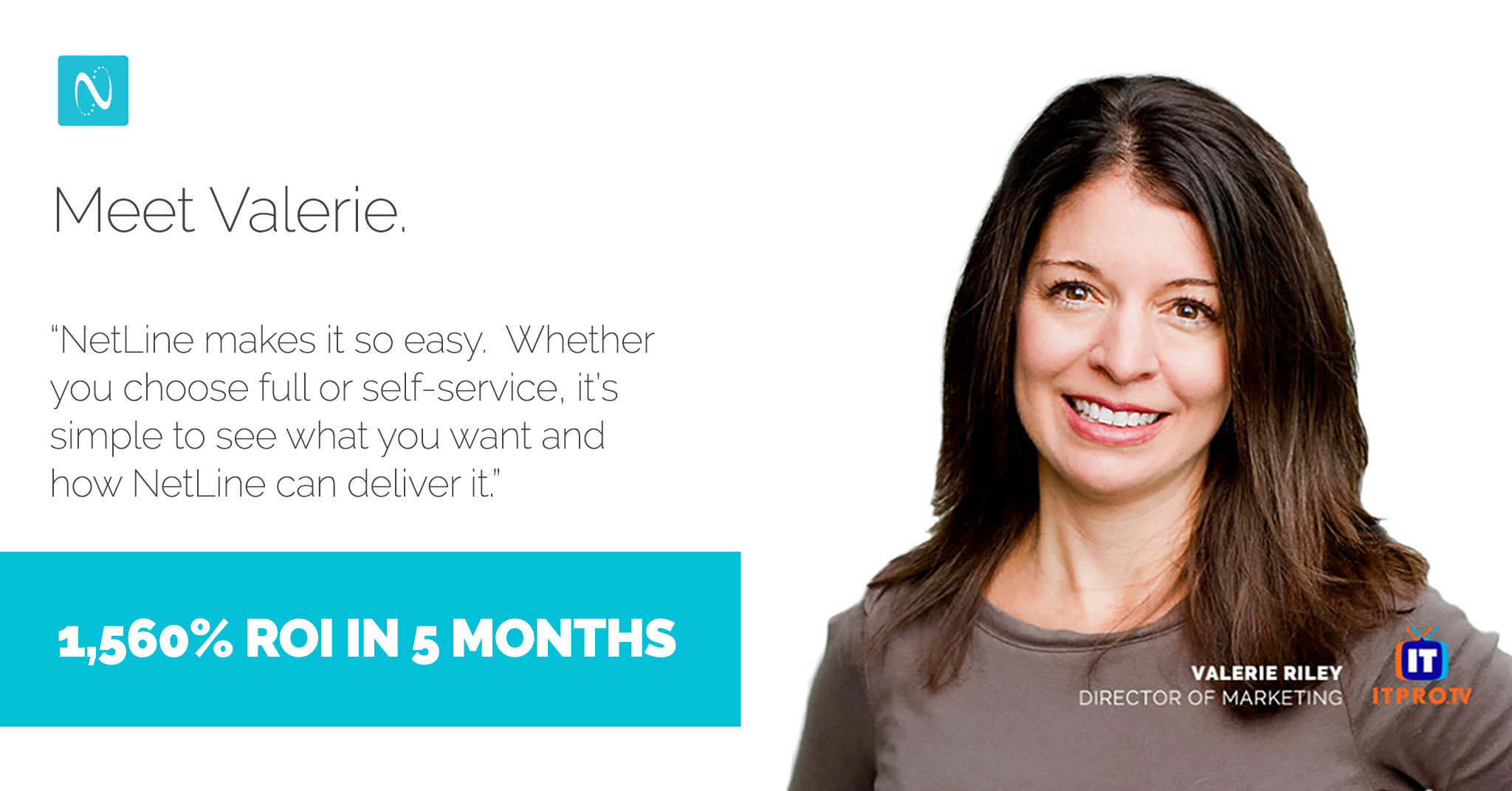 This
case study
is the first of a series of newly-released success stories which speak to the power of NetLine's industry-agnostic B2B lead generation platform. NetLine's clients are comprised of various industries, lead goals, budgets and sales cycles, all utilizing the influence of hyper-targeting capabilities and content on the largest B2B content syndication lead generation network.
NetLine was able to produce the staggering ROI by delivering on content syndication lead generation objectives via NetLine's network, which consists of over 15,000 web properties and 10 content promotion channels, mostly driven by industry-based online publishers. Piloted and managed by the client, ITProTV approached
NetLine
with a need to expand their e-Learning business into the B2B space. With a blank slate for this initiative and previous success in B2C, ITProTV found immediate success leveraging content targeted to IT professionals.
Implemented by Valerie Riley, Director of Marketing at ITProTV, the objective was to achieve 3,500 Marketing Qualified Leads (MQLs) per month. Taking advantage of strong content, concise audience targeting, and real-time feedback through visualized reporting on the NetLine Portal, Valerie saw immediate success.
Featuring
reporting
capabilities that make it simple for clients (marketers, agencies or publishers) to manipulate campaigns in real-time, NetLine proved to be a reliable and prolific solution for ITProTV. On her experience with NetLine and its robust reporting features, Valerie said, "The reporting makes it easy to see with what types of leads my content is having the most success and which pieces are performing best. Sometimes my lead order is filled in just days. That's especially helpful when I'm running out of month and I haven't hit my lead goals yet!"
1,500% ROI is a measurement of pipeline generated from the first set of phone calls to convert opportunities funneled from NetLine campaigns. ITProTV continues to nurture leads generated by previous campaigns; the company expects to see continued ROI from initial campaigns and leverage additional content for more success.
About ITProTV:
ITProTV turns IT education into a conversation that connects learners to experts and each other...from the comfort of your living room. With new content added daily, members get access to 4,000+ hours of content, plus practice exams and virtual labs and get to be a part of an IT community. Choose from our flexible and cost-effective membership options which are available for both corporate teams and individual learners. Learn at your own pace wherever is most convenient.
About NetLine Corporation:
NetLine Corporation empowers B2B Marketers with the reach, technology, and expertise required to drive scalable lead generation results and accelerate the sales funnel. Operating the largest B2B content syndication lead generation network, NetLine reaches 125 million unique visitors and processes more than 700 thousand leads monthly across 300 industry sectors. NetLine's AudienceTarget™ technology drives prospect discovery, quality customer lead acquisition, and buyer engagement from real prospect intent as professionals consume content directly across the network. Superior quality, on demand access, and advanced campaign reports enable all clients to achieve lead generation success. Founded in 1994, NetLine is privately held and headquartered in Los Gatos, California. Successful B2B Marketers Start with NetLine, visit
www.netline.com
.