NetLine Launches On Demand Access to the Largest B2B Lead Generation Network for Marketers
Los Gatos, Calif., September 7, 2016 /PRNewswire/
– Today, NetLine launched new capabilities for self-serve and full-serve clients alike, enabling marketers to further manage the success of their content syndication lead generation campaigns. With enhanced reporting capabilities and access to lead management, B2B marketers can further control the success of their demand generation strategies. Companies and agencies of all sizes now have access to the reach, technology, expertise, and data required to execute sophisticated B2B marketing campaigns and drive powerful results to fill the sales funnel – all within the NetLine Portal.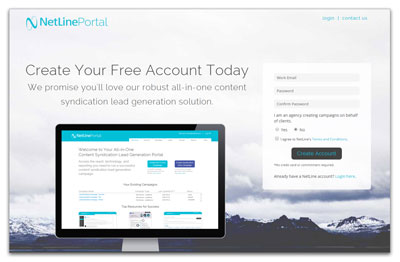 NetLine
, the #1 B2B Content Syndication Lead Generation Network, has been the trusted solution for many Fortune 500 companies; however, these enhancements are focused on addressing the lead generation needs for businesses of all levels, industries, and sizes – and their desire for a more hands on approach to running demand generation campaigns with greater transparency and control.
"NetLine has always been a technology company and until today we had positioned the client side of the business as a service oriented entity. While we will continue to provide the world class service our clients have become accustom to, we have also made it simpler for all marketers to see what NetLine has to offer via a more tangible interaction with our technology to experience the power of NetLine for themselves."
said CEO and Chairman, Robert Alvin.
"Beginning today, clients of all sizes and types can go to NetLine and immediately launch a campaign, pull reports, optimize strategies, and access their leads."
The initiative focused on packaging the complexities of running highly advanced lead generation programs into an easy to use self-service Portal that marketers and agencies can use to drive scalable results. Brian Peiffle, Vice President of Sales & Media Brokerage at
ReachMail Media Services
explained the value his agency finds in the solution,
"we view NetLine's primary advantages to be: audience size/scope of network, lead quality, and filtering capability (particularly in vertical markets). NetLine is further distinguished by being the only solution that allows for true testing due to the campaign controls."
NetLine delivers a robust lead generation solution in a smart and simple manner. The Content Syndication Lead Generation Portal allows B2B marketers to harness the power of NetLine's AudienceTarget™ Technology while delivering intent-based quality leads.
Marketers are invited to create a free account to review the new self-service
NetLine Portal
.
About NetLine Corporation:
NetLine Corporation empowers B2B Marketers with the reach, technology, and expertise required to drive scalable lead generation results and accelerate the sales funnel. Operating the largest B2B content syndication lead generation network, NetLine's AudienceTarget™ technology drives prospect discovery, quality customer lead acquisition, and buyer engagement from real prospect intent as professionals consume content directly across the network. Superior quality, on demand access, and advanced campaign reports enable all clients to achieve lead generation success. Founded in 1994, NetLine is privately held and headquartered in Los Gatos, California. Successful B2B Marketers Start with NetLine, visit
www.netline.com
.