B2B Marketing Agency Generates 30K Leads for Clients Annually with NetLine Corporation
LOS GATOS, Calif., Oct. 11, 2016 /PRNewswire/
– In a new report NetLine Corporation examines one demand generation agency's pivot towards running content syndication campaigns to produce net-new and in-market leads for clients using the self-service NetLine Portal. ReachMail Media Services (RMS), a boutique agency, was seeking a more comprehensive syndication solution that would provide their team of marketers with the control, transparency, and scale required to drive lead generation success for their customers. In the collaborative case study, RMS published their agency's annual lead volume and client campaign renewals rates since implementing the NetLine Portal as their "#1 content syndication demand generation solution."
The new
case study
delivers an in-depth look at the agency's decision to test NetLine's audience targeting, campaign management, and reporting capabilities – and its impact on net-new quality lead generation. Brian Peiffle, the VP of Sales and Media Brokerage at
RMS
, reflected on the efficiencies discovered using the Portal, "[NetLine] has enabled us to reach specific verticals on a CPL basis that previously we could only reach with less efficient CPM-based programs."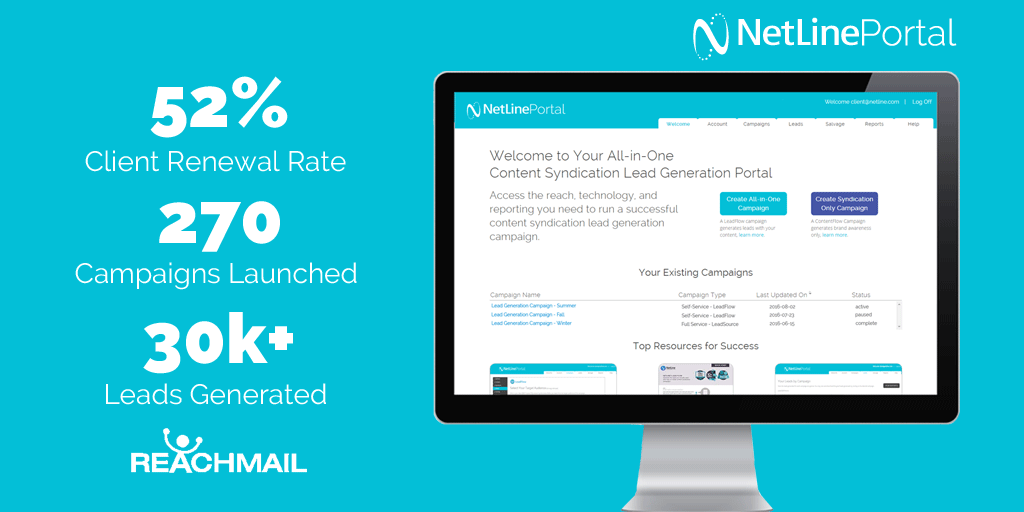 On-demand campaign management proved to be a highly valued feature within the Portal enabling RMS to create, manage, and optimize a large volume of campaigns with ease. Peiffle
explained
, "...the ability to see exactly how many leads are generated by filter segment empowers our team to continuously optimize campaigns to drive the best results for our clients." As a consequence of this success, 75% of RMS's clients are actively running content syndication campaigns, their most popular demand generation solution, due to higher quality levels and CPL pricing.
Increased client loyalty has driven ReachMail Media Services (RMS) to generate more than 30k leads annually with a 52% client campaign renewal rate using the NetLine Portal. Content marketing and demand generation agencies are empowered to increase revenues by providing sophisticated and scalable lead generation solutions for their clients. Grow your agency's B2B marketing services and revenues with the
NetLine Portal for Agencies
.
About NetLine Corporation:
NetLine Corporation empowers B2B Marketers with the reach, technology, and expertise required to drive scalable lead generation results and accelerate the sales funnel. Operating the largest B2B content syndication lead generation network, NetLine's AudienceTarget™ technology drives prospect discovery, quality customer lead acquisition, and buyer engagement from real prospect intent as professionals consume content directly across the network. Superior quality, on demand access, and advanced campaign reports enable all clients to achieve lead generation success. Founded in 1994, NetLine is privately held and headquartered in Los Gatos, California. Successful B2B Marketers Start with NetLine, visit
www.netline.com
.