NetLine Corporation named a Leader in 'Lead Capture' by Customers on G2 Crowd New Fall 2018 Grid
Report reveals NetLine as #1 in Quality of Support among Lead Capture companies.
LOS GATOS, Calif., October 2, 2018 /
-- NetLine has been identified as one of the best in Lead Capture based on its high levels of customer satisfaction and 'likeliness to recommend' ratings from real users on G2 Crowd, the world's leading business solutions review website. In addition to being recognized as a Leader in the 'Lead Capture' category, NetLine was also ranked as the leader in Quality of Support among other companies in the category. Scoring a 99% satisfaction rating, NetLine's outstanding support for customers surpasses the average of 88% amongst competitors.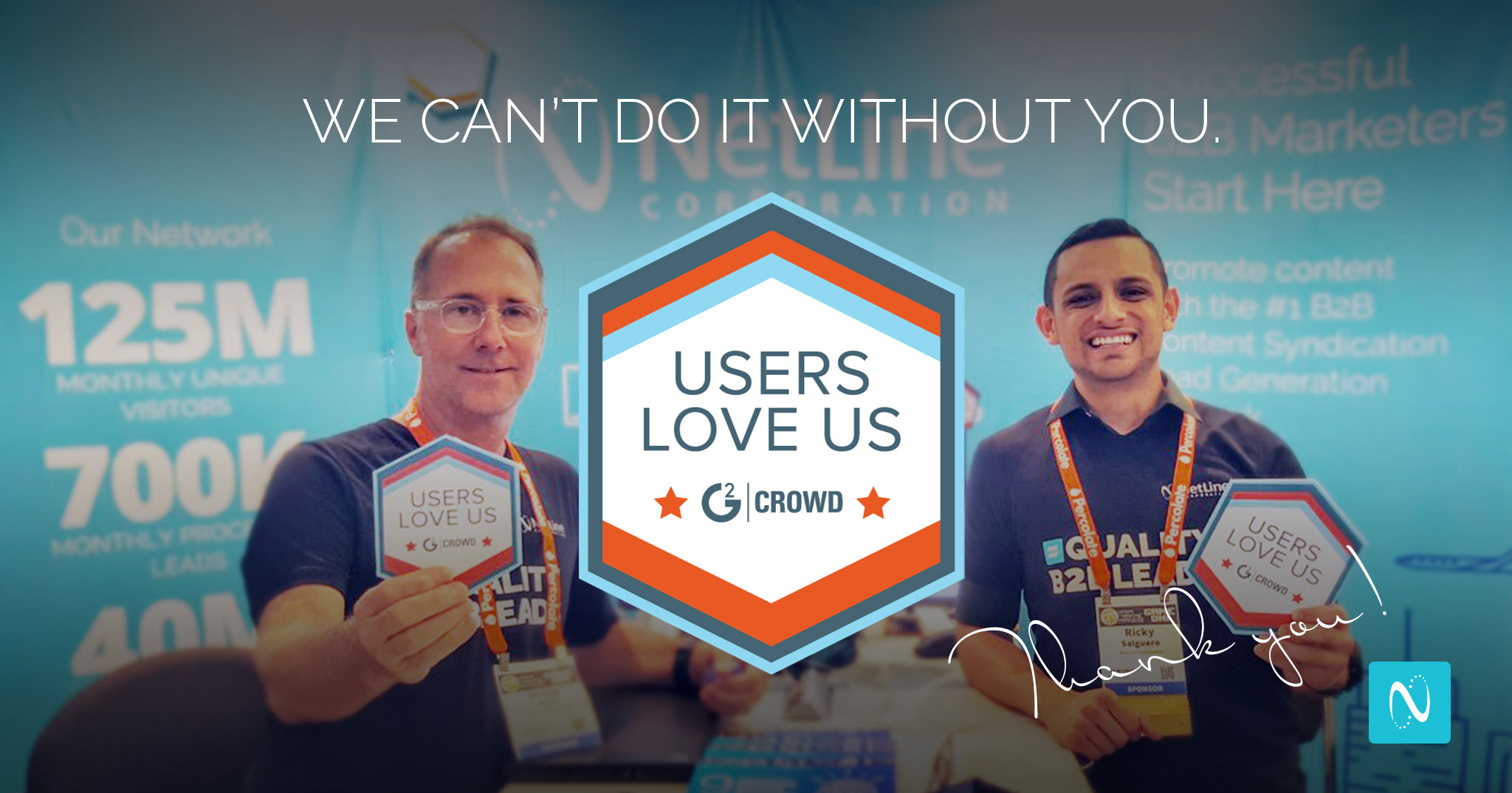 NetLine achieved Leader recognition on the
G2 Crowd's Fall 2018 Grid Report
by receiving positive reviews, from verified users compared to similar products in the 'Lead Capture' category. For inclusion in the report a product must have received ten or more reviews.
NetLine CEO and Founder, Robert Alvin shared his thoughts on the recognition from G2 Crowd and clients, "We are thrilled to again receive this recognition by G2 Crowd and our customers. Our B2B content syndication lead generation technology helps marketers, agencies and publishers to achieve scalable, on-demand lead generation success for themselves or their clients. We take pride in delivering results that help brands of all sizes and industries to grow their business through intent-based prospects consuming content on the NetLine network."
Client
feedback on support and reporting
features is a testament to NetLine's perspective on innovation, "[Client Services] was incredibly knowledgeable and helpful. The reports provided were extremely detailed and informative as well. I would say NetLine is one of the best lead gen vendors I have worked with," via Elizabeth Schechter at
Response Media
. NetLine recently rolled out
updates to its reporting capabilities
in the NetLine Portal, which permits custom branding and custom link sharing capabilities. Internal and external collaboration and real-time campaign optimization are easier than ever with these enhancements.
"Rankings on G2 Crowd reports are based on data provided to us by real users," said Michael Fauscette, chief research officer, G2 Crowd. "We are excited to share the achievements of the products ranked on our site because they represent the voice of the user and offer terrific insights to potential buyers around the world."
Learn more about what real users have to say (or leave your own review of NetLine) on G2 Crowd's
NetLine Corporation review
page!
Media Contact:
Elizabeth Van Osten
Phone: 215.855.3547
Email:
evanosten@netline.com
About NetLine Corporation:
NetLine Corporation empowers B2B Marketers with the reach, technology, and expertise required to drive scalable lead generation results and accelerate the sales funnel. Operating the largest B2B content syndication lead generation network, NetLine reaches 125 million unique visitors and processes more than 700 thousand leads monthly across 300 industry sectors. NetLine's AudienceTarget™ technology drives prospect discovery, quality customer lead acquisition, and buyer engagement from real prospect intent as professionals consume content directly across the network. Superior quality, on demand access, and advanced campaign reports enable all clients to achieve lead generation success. Founded in 1994, NetLine is privately held and headquartered in Los Gatos, California. Successful B2B Marketers Start with NetLine, visit
www.netline.com
.
About G2 Crowd:
G2 Crowd, the world's leading business solution review platform, leverages more than 381,000 user reviews to drive better purchasing decisions. Business professionals, buyers, investors, and analysts use the site to compare and select the best software and services based on peer reviews and synthesized social data. Every month, more than one million people visit G2 Crowd