NetLine partners with Marketo LaunchPoint Ecosystem
NetLine, the #1 B2B multi-channel network offers lead generation services to Marketo customers through a complete ecosystem of best marketing solutions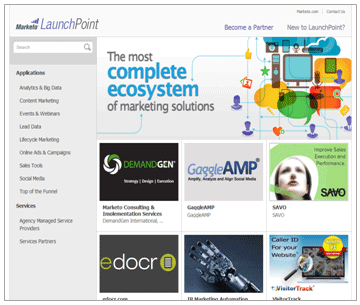 LOS GATOS, CA - Nov. 29, 2012
– NetLine Corporation, an online B2B multi-channel advertising network, today announced the company is partnering with Marketo, a leading provider of marketing automation software to offer lead generation services for the
Marketo LaunchPoint
ecosystem.
NetLine's listing
in the LaunchPoint ecosystem is now live.
Marketo LaunchPoint is the most complete ecosystem of compelling solutions for marketers. Categories include analytics and big data, content marketing, events and webinars, lead data enrichment, online ads, top of the funnel conversion, social media and lifecycle marketing.
"There is a strong synergy between Marketo's LaunchPoint and NetLine's lead generation services," said Robert Alvin, CEO & Founder of NetLine. "NetLine has been integrating leads in to the Marketo platform on behalf of its clients and NetLine is thrilled to help contribute to its success."
The ecosystem was launched on November 14 following Marketo's "From Good to Great" Virtual Event featuring all of the LaunchPoint partners. 10,000 marketers and C-Level executives' attended speaking sessions, visited virtual booths and engaged in meaningful conversations on how to drive revenue generation.
Robert Alvin was a featured panel speaker on thought leadership and best practices for the top of the funnel. "People today want to consume their content when and where they want it," said Alvin. "Therefore you must utilize a multi-channel strategy to optimize your reach."
For over 18 years, NetLine has provided expertise in online demand generation to a long list of B2B companies from SMEs to the Fortune 500. Utilizing proprietary technology and a unique multi-channel network, companies are able to generate the volume and quality of leads needed to accelerate the sales pipeline and increase ROI.
"We are excited to have NetLine join Marketo LaunchPoint," said Robin Bordoli, VP Partner Ecosystems of Marketo. "Marketers need to constantly drive leads the top of their funnel to feed their marketing platform, and NetLine has the technology and experience to deliver clients' lead generation programs directly into their Marketo platform."
About NetLine Corporation: Reaching Your Future Customers
NetLine is the #1 online B2B multi-channel advertising network providing targeted branding and high quality lead generation.
As proven experts in B2B online demand generation, NetLine enables clients to increase their sales opportunities and accelerate the sales pipeline. Utilizing innovative targeting technology, they provide unmatched reach to a network of over 15,000 website properties and 75M monthly unique visitors. NetLine helps companies reach their future customers by distribution of content through their network via publisher sites, expert blogs, mobile, social media and email. NetLine's services have attracted clients such as Google, Hewlett Packard, HubSpot, IBM, Microsoft, Oracle, VeriSign, SAP, SuccessFactors and Symantec.
Founded in 1994, NetLine Corporation is privately held and headquartered in Los Gatos, California with operations across the globe. For more information, visit
https://www.netline.com
.
About Marketo: Marketing Software -- Easy, Powerful, Complete.
Marketo uniquely provides easy-to-use, powerful and complete marketing software that propels fast-growing small companies and global enterprises alike. Marketo's marketing automation and sales effectiveness software -- including the world's first integrated solution for social marketing automation -- streamlines marketing processes, delivers more campaigns, generates more win-ready leads, and dramatically improves sales performance. With proven technology, comprehensive services and expert guidance, Marketo helps thousands of companies around the world turn marketing from a cost center into a revenue driver.
Known for providing breakthrough innovation and fueling explosive growth, Marketo was recently named to The Wall Street Journal's 3rd annual "Next Big Thing List," one of "America's Most Promising Companies" by Forbes, and the #1 Marketing Software Vendor on the INC 500. In 2011 Marketo ranked as the #1 fastest-growing private company by the Silicon Valley Business Journal, and in both 2011 and 2012 the company received the CRM Market Leaders Awards Winner for Marketing Solutions by CRM Magazine. Salesforce.com customers also honored the company with two AppExchange Best of '11 Awards, for Best Marketing Automation Solution and Best Chatter Exchange.
Marketo and the Marketo logo are trademarks of Marketo, Inc. All other trademarks are the property of their respective owners