NetLine Featured in B2B Growth Podcast: Do You Know the Type of Content Your Buyer is Consuming?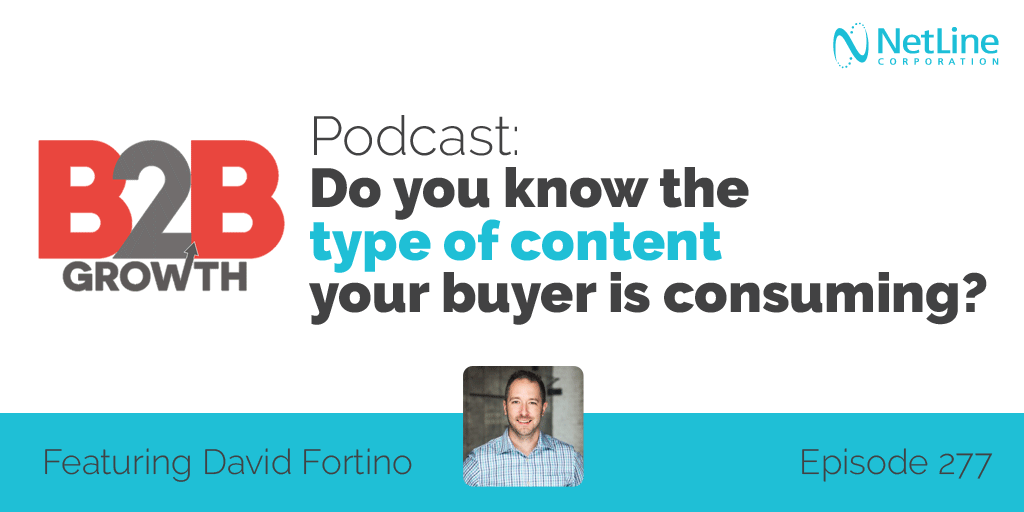 December 19, 2016 / B2B Growth Podcast/
In Episode 277 of the B2B Growth Podcast, host James Canbary interviewed David Fortino, SVP of Audience and Product at NetLine Corporation. The
interview
focused on examining the buying committee of today and setting new expectations on C-level engagement. Fortino shared important insights from a recent content consumption report by NetLine Corporation highlighting, "directors, managers, and individual contributors are now accounting for 64% of all content being consumed. That's a gross disparity against C-level professionals which are basically consuming around 5% of content."
Canbary and Fortino discussed the importance of setting internal expectations for reaching C-level professionals along with the strategy for producing and packaging the right types of content for your target audience.
Discussed in this Episode:
Finding exhaust signals in the data
C-suite targeting, who is the actual researcher?
Growth of the buying committee
Packaging content for your target persona
Content consumption trends by job level
Listen to Episode 277,
Do You Know the Type of Content Your Buyer is Consuming?
B2B Growth Podcast:
B2B Growth is a podcast dedicated to helping B2B marketers achieve explosive growth. Host, James Carbary, is the founder of Sweet Fish Media, a podcast production service for B2B companies. He's a contributor for the Huffington Post & Business Insider, and he also co-hosts the B2B Growth Show.
About NetLine Corporation:
NetLine Corporation empowers B2B Marketers with the reach, technology, and expertise required to drive scalable lead generation results and accelerate the sales funnel. Operating the largest B2B content syndication lead generation network, NetLine's AudienceTarget™ technology drives prospect discovery, quality customer lead acquisition, and buyer engagement from real prospect intent as professionals consume content directly across the network. Superior quality, on demand access, and advanced campaign reports enable all clients to achieve lead generation success. Founded in 1994, NetLine is privately held and headquartered in Los Gatos, California. Successful B2B Marketers Start with NetLine, visit
www.netline.com
.