<< Back to Resources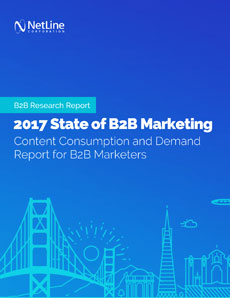 2017 State of B2B Marketing Content Consumption and Demand Report for B2B Marketers
In-depth study examines the B2B content consumption behavior of marketing professionals offering B2B marketers deep insight to their target prospects—marketers targeting marketers.
The research report focuses on the delta between the active marketing personas researching marketing-related topics and the in-demand marketing personas that organizations are trying to acquire. Powered by the largest B2B-specific content syndication lead generation network on the web, NetLine's first-party data offers a unique view into actual B2B content consumption activity and intent-based marketing audiences.
In the past year, 65% of lead generation campaigns excluded 17% of the active marketing audience, comprised of influencers outside the C-suite. NetLine's analysis of the report identifies three important recommendations for key stages of content-based lead generation to increase pipeline development and revenue-driving opportunities, including:
content strategy
targeting strategy
nurturing strategy
Robert Alvin, CEO and Founder of NetLine Corporation, explains the importance of a 3-tiered approach,
"Marketers are often focused on one specific stage within the greater marketing-to-sales funnel, leaving them uneducated on opportunities for optimization. We want to help marketers see the bigger picture by providing the data necessary to make smarter decisions to increase revenue potential and campaign ROI."
The 2017 State of B2B Marketing Content Consumption and Demand Report features data driven insights to enable marketers to run more successful lead generation initiatives and acquire target prospects. Download the report today.